Triumphant TRUMP!
10
Nov
2016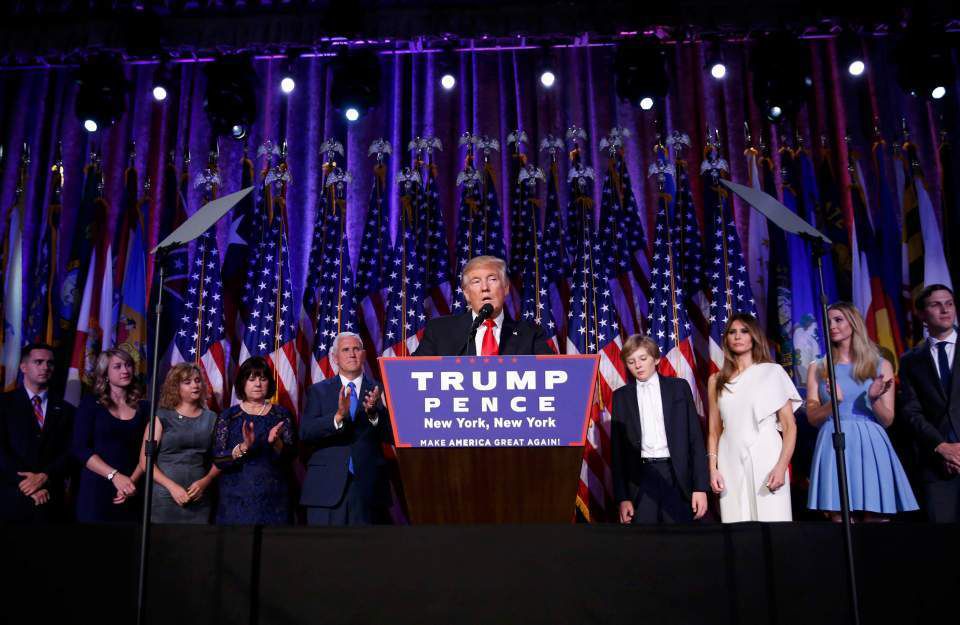 The forgotten men and women of our country will be forgotten no longer
World watches on in shock as Donald Trump takes series of key swing states to defeat Hillary Clinton, taking 279 against Clinton's 228 electoral college votes.
VICTORIOUS Donald Trump has returned to his luxury Manhattan apartment after pulling off an extraordinary election triumph that stunned the world.
The President-elect arrived back at his opulent Trump Tower home with wife Melania – after winning a race to the White House he was widely tipped to lose.
The 45th US President watched the results come in from Trump Tower before addressing his supporters from a nearby Hilton Hotel.
The real estate billionaire sent shockwaves across the world after delivering his own "Brexit for America" in a historic victory over Hillary Clinton.
In his first address as President-elect after a bitter campaign, Trump struck a unifying tone in front of crowds cheering "USA, USA".
He said it was "time for America to bind the wounds of division".
In an impassioned speech that continued his theme of reaching out to disillusioned Americans, Trump told a packed-out crowd in Manhattan: "The forgotten men and women of our country will be forgotten no longer".
He added: "I pledge to every citizen of our land that I will be president for all Americans, and this is so important for me".
His voice cracking, he continued: "It's time for us to come together as one united people. I pledge to every citizen that I will be president for all."
Trump also thanked the secret service and NYC law enforcement, and added: "It's been what they call a historic campaign.
"But to be really historic, you have to do a great job. And I promise you that we will not let you down. We will do a great job.
"While the campaign is over, our work on this movement is really only just beginning.
"We're going to be doing a job that hopefully you'll be so proud of your president. It's been an amazing honour."
Trump added: "And I love this country. Thank you. Thank you very much."
In his first tweet since being elected, Trump posted: "Such a beautiful and important evening! The forgotten man and woman will never be forgotten again."
In a night of high drama, Trump's promise to "Make America Great Again" paid off as millions of voters who Hillary Clinton dismissed as a "basket of deplorables" went to polling stations in their droves to paint the map of the US Republican red.
Trump won the election with 279 electoral college votes against Clinton's 228 with some votes still being counted.
And I love this country. Thank you. Thank you very much