SHITTE TERROR || Again, Shiite members clash with police killing many in N/East
14
Nov
2016
Some aggrieved members of the Shiite Islamic Movement of Nigeria clashed with the police in Kano, Premium Times is reporting.
Shitte leader Ibrahim El-Zakzaky
The presence of Security operatives is currently seen around the affected community.
The report said the clash happened on Monday, November 14 in the northern city with many already feared dead.
Those reportedly killed so far include many of the Shiite members and a policeman.
The report quoted a witness as saying the began around Tamburawa, an outskirts of Kano, just as the police tried to stop their protest. The report added that the police has reinforced to the scene of the clash while the major Kano- Zaria road and adjoining areas have been blocked. The members of the Islamic organisation and the police have constantly clashed following protests by the former over the continued detention of their leader, Ibrahim El-Zakzaky. A Nigerian journalist had recently revealed that the health condition of the leader of the Islamic Movement in Nigeria (IMN) Ibrahim El-Zakzaky is still unknown. Abdollah Idris, a deputy editor of Daily Trust newspaper in an interview with an Islamic news agency, Tasnim said there is no information on the health of the Shiite leader.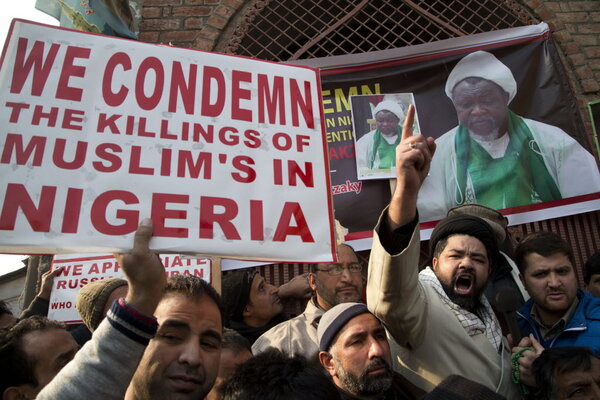 The Shittes worldwide had since condemed the killing of their members accross the world and Nigeria in particular, shown in the protest photo above.