RETURN OF THE KING? || All Eyez On Me
25
Nov
2016
TuPac's Biopic 'All Eyez On Me' Will Be Released On His Birthday.
The biopic for the late iconic rapper, Tupac Shakur titled 'All Eyez On Me' has finally gotten a release date after it was pushed back.
According to one of the actors, the film will debut on June 16, 2017, which would have been Pac's 46th birthday. It was originally set to be released in November this year but was then pushed back indefinitely.
Actor Dom Santana, who will be playing Suge Knight, took to Instagram to reveal some details surrounding the film's debut including the release date.
6-16-2017 we're gonna shake the world........ #AllEyezOnMe #tupac #movie #followme
See this Instagram photo by @officialdomsantana * 129 likes
Instagram photo by @officialdomsantana
The film's cast includes Demetrius Shipp as Tupac Shakur, Danai Gurira as Afeni Shakur, Jamal Woolard as The Notorious B.I.G, Annie Ilonzeh as Kidada Jones and Dominic Santana as Suge Knight. The film is being directed by music video director Benny Boom.
You can watch the trailer for the upcoming movie here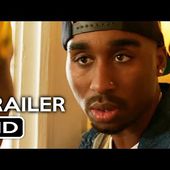 All Eyez on Me Official Trailer #2 (2016) Tupac Biopic Movie HD
All Eyez on Me Trailer 2 (2016) Tupac Biopic Movie HD [Official Trailer]
https://www.youtube.com/watch?v=6VC0aSPfyQk&feature=youtu.be
All Eyez on Me Official Trailer